2pcs/pack Lermende Clear Toiletry Bag TSA Approved Travel Carry On Airport Airline Compliant Bag Quart Sized 3-1-1 Kit Luggage Pouch
2pcs/pack Lermende Clear Toiletry Bag TSA Approved Travel Carry On Airport Airline Compliant Bag Quart Sized 3-1-1 Kit Luggage Pouch
✈TSA Approved – TSA approved clear toiletry bag strictly follow 3-1-1 regulations. Easy and quick to pass through airport security. An ideal cosmetics makeup quart size toiletry bags for all ages.

✈Clear Strong Thickness Design – Made of transparent PVC material, eco-friendly to see and get items quickly. Strong thickness make the bag more durable and easy to clean, it is reusable

✈Waterproof Secure – Airline Toiletries Bags are transparent and waterproof to to hold all your items included Liquids, at least resistant to leaks in case one of your bottles spills. Enjoy your travel without worries

✈Improved Luxurious Zipper System – Sturdy smooth zipper, large zipper opening and luxurious zipper puller make it easy open and pack. And it is corrosion-resistant. Zipper bag is more durable than those inferior zip-top bags

✈Carry-on Size & Versatile – the quart bag measure is 7.7 x 5.9 x 2.5 inches, it is convenient to carry on when you are travelling or go out. ideal for liquids, shampoo, liquid soap, lotion, perfume, cosmetics, toothpaste, toothbrush, comb and so on
Add to Wishlist
Do you travel often for work or leisure? Are you tired with the hassle of airport security delays?
With our Lermende super-durable TSA Approved Clear Toiletry bag, make passing through security a pleasure, not a chore.
Take it to the pool or beach, throw in a larger tote or travel bag & know your items are protected from moisture or sand! Easy to wipe clean.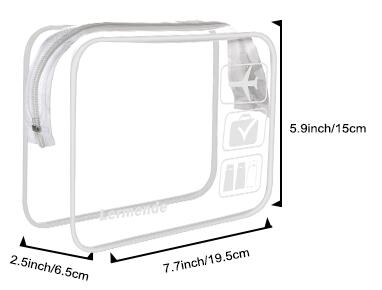 TSA Approved Toiletry Bag
Complies with the 3-1-1 rule for TSA screening. Easy and quick to pass through airport security.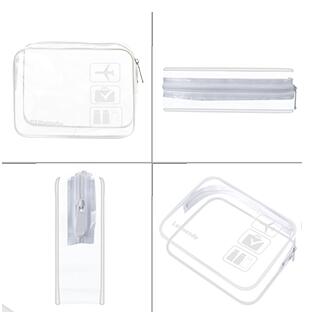 Fine craftsmanship
Detail-oriented Zipper. Sturdy zipper, zip up more smoothly. Large zipper opening, big zipper handle, easy pack and take.
Transparent & Waterproof
Made with waterproof clear material. Waterproof keep item dry inside. Clear high visibility make check and get items a breeze. Lightweight ease burden. Semi-supple and compressible, save your space when not use.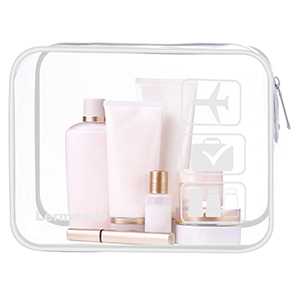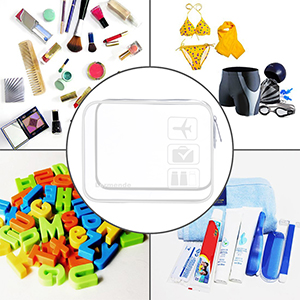 Multifunction Organizing Bag, for all ages
Keeps your Bottles, Containers, Cosmetics,Small Toiletries, and Liquids in One Place. Also design for swimwear, men' shaving kit, kids' stationery, towel and son on.
Different Color for Choice
Different color, different style, different choice.
Colorful bags, colorful life.